Quest Bars are the pinnacle of low carb protein bars. I've been a fan of them for years, and even more so since I started following a ketogenic diet about a year ago. They are great, as long as eaten in moderation. They satisfy the calling of my sweet tooth, as well as pack in the protein and fiber. The one downside is the cost. Quest bars will run anywhere from $2.00-$3.50 per bar! The cost started to get so prohibitive that I began researching the ingredients and trying to figure out how I could make quest bars at home. Over the past few weeks I've been experimenting with different methods and combinations of ingredients and have finally mastered the elusive method for how to make quest bars. Continue reading to learn how to make quest bars for yourself!

If Reading Isn't Your Thing
Megha walks you through the step by step process of how to make quest bars in this video. We taste all of the different flavor combinations at the end and let you know what worked, and what didn't!
Get Our Top 10 Recipes of 2016 E-CookBook Free!
What You'll Need
Prebiotic Fiber Syrup
This is the tricky part. Most of you are probably not familiar with this stuff, but a few times using it and you will be masters of the prebiotic fiber syrup too! This is what most of the low carb processed/packaged foods have in them and it is the most vital ingredient for making homemade quest bars. It's a very thick syrup, close to the consistency of honey. The one I use is VitaFiber. It will cost you about $1 per ounce on Amazon, and gets cheaper as you order in bulk quantities. $1 per ounce might seem a bit pricey, but each bar only takes 2 tablespoons of this stuff, so it will last you a long time. I will do an in depth price analysis later on in this post.

Protein Powder
Quest uses a blend of Milk and Whey protein. I opt to use 100% whey when I make quest bars. I like using IsoPure Zero Carb in order to keep the carbs super low. Also I really enjoy the taste of IsoPure protein. I'd recommend getting some unflavored whey as well so you can build flavor profiles of your homemade quest bars completely from scratch. The flavored IsoPure is great if you want to make a quest bar taste like whatever flavor your protein powder is, but if you want to make a crazy new flavor you're not going to want to start with a flavored protein. The flavor of the protein is very dominant in the final taste of the bar. If you use strawberry protein for example, there isn't a lot of room to get other flavors in there. Your bar is pretty much going to taste like strawberry. For a lot of you that might be fine, but I enjoy coming up with new and creative flavor combinations when I make quest bars.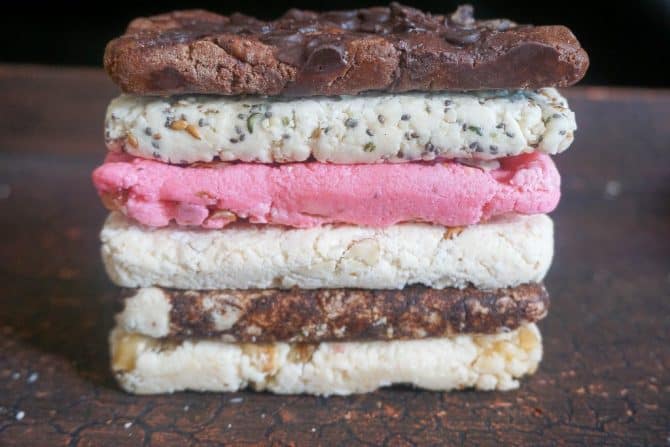 Almond Flour
A small amount of almond flour will help bind the bar together. This is the one aspect of the recipe I'm still testing a bit. I've tried a few types of flours and almond flour is definitely the best performing thus far. The finer ground you can get the better. This will not add much to the final flavor of the bar and really just plays a utility role in the whole process.

Mix-Ins
This is the fun part! Round up a whole bunch of stuff you want to jam into a quest bar. Coconut, almonds, fruits, broccoli, bacon, literally anything! The possibilities are endless once you get the basic process down. I've spent many nights wide awake thinking of new quest bar flavors.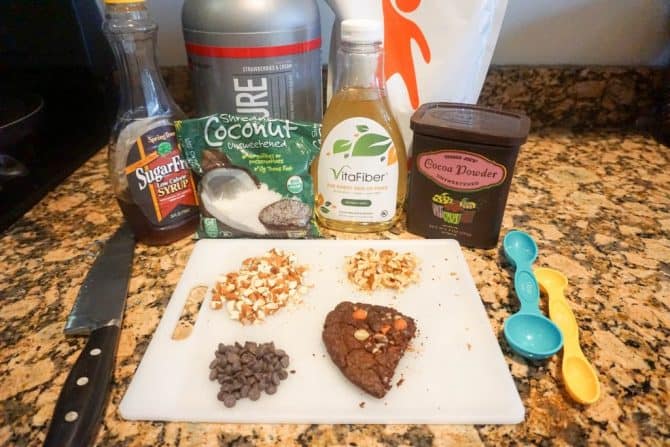 Quest Bar Mold(Optional)
A quest bar mold can really come in handy if you care about the presentation of your finished bars. A mold is the best way to get these homemade bars to look like the real thing. We use a mini loaf pan. We do a lot of baking so we could justify the purchase. I do recommend the mold, but if you don't do much baking outside of this then you can try molding your bars by hand to start with.
How To Make Quest Bars
Now I'll walk you through the step by step process. It's surprisingly easy!

Step 1 Add 2 tablespoons of the prebiotic fiber syrup to a nonstick pan. Have the burner turned off when you add the fiber syrup.

Step 2 Turn the burner on low and wait for the fiber syrup to bubble. Just the edges need to start bubbling.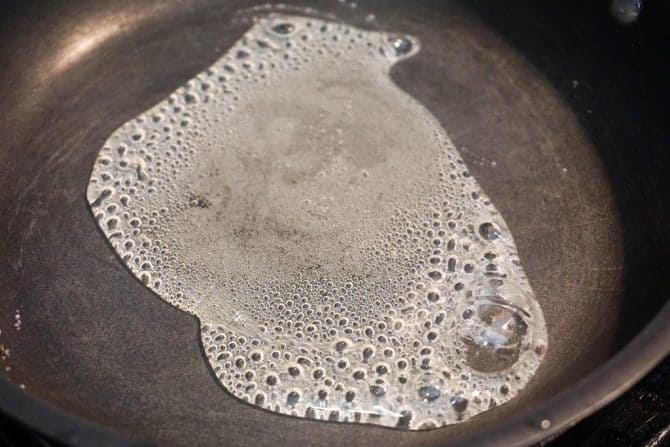 Step 3 Add 1 Scoop of protein powder(30g) as well as 2 teaspoons of almond flour. It is easier if you combine the protein and almond flour in a separate bowl first.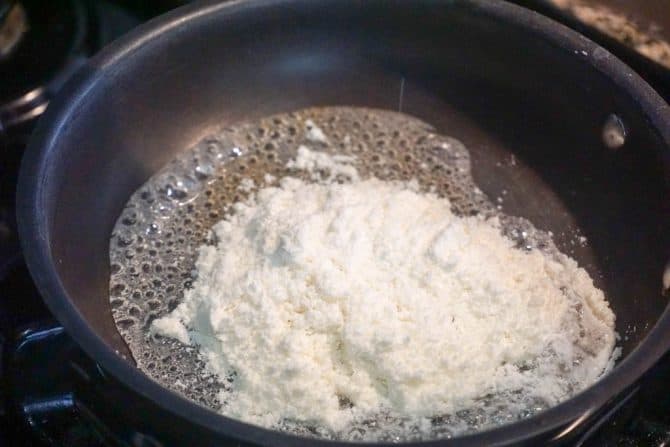 Step 4 Remove from the heat and continue to mix the powder into the syrup. It WILL NOT come together all the way. It will still be a very loose mixture and a lot of the powder will not be incorporated at all. That's ok!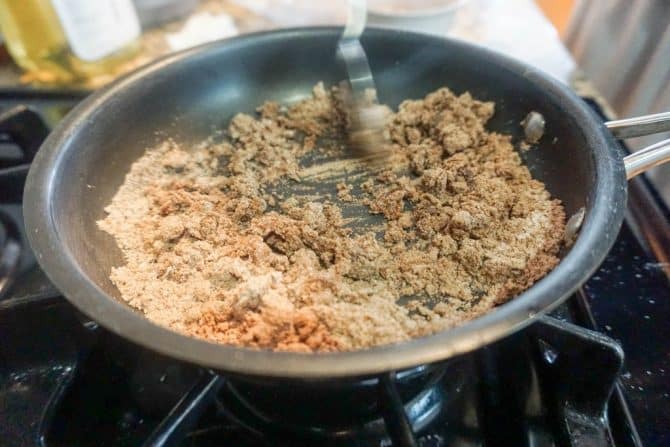 Step 5 Place the warm mixture into a ziploc bag. Once the mixture is in the bag start to knead it by hand. Just keep folding the mixture on top of itself and eventually it will all come together.

Step 6 Add the Mix-Ins! When the mixture is just about combined you can throw your mix-ins into the bag as well. I like to save about 1/4 of whatever I'm mixing in to top the bar with.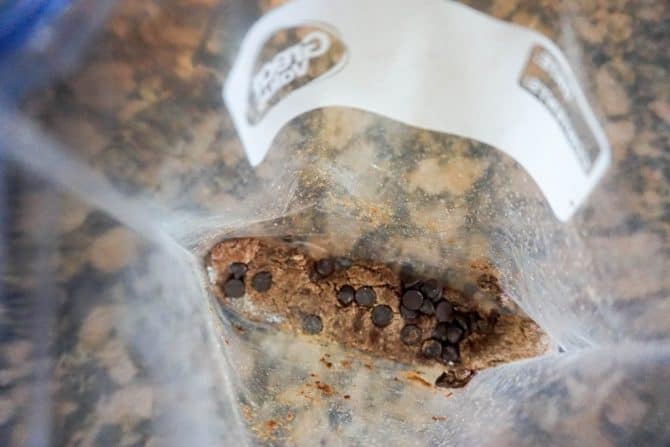 Step 7 Place the mixture into a mini loaf mold, or shape by hand. You can really shape them any way you like.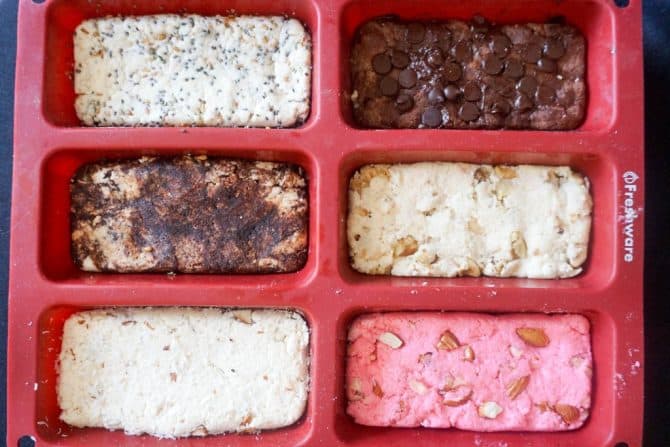 Step 8 Place the bars in the refrigerator for 1 hour to set. We are impatient so we usually put ours in the freezer for 10 minutes and the dig in!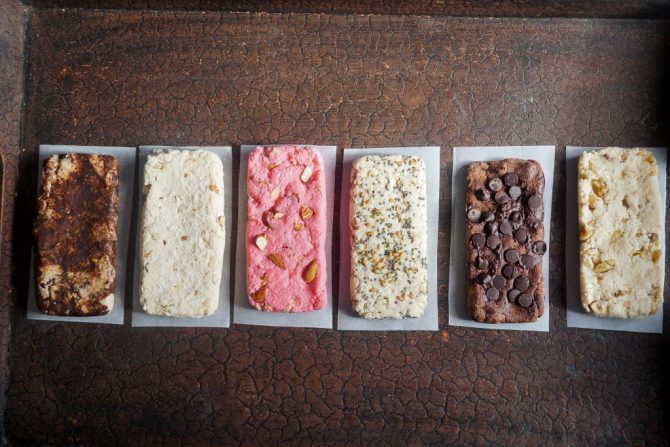 Some Flavors We've Tried
I'll share with you a few flavors we have tried, as well as how the different ingredients affect the finished product.

Maple Walnut
1 tsp Sugar-Free Maple Syrup
2 Tbsp chopped Walnuts
Unflavored Whey
This is one of the better flavors we tried. Adding liquid to the bar will throw off the final consistency a bit. The maple flavor didn't come through super strong, but the walnut flavor definitely did. Some corrections for next time would be to add an additional tsp of maple syrup, as well as a bit of extra almond flour to offset the added liquid. This is one I'd recommend!

Strawberry Almond
2 Tbsp chopped Almonds
Strawberries & Cream Whey
The consistency on this one was perfect, but the flavor was not our favorite. The flavored protein powder really takes over the flavor of the final product. The Strawberries & Cream protein is not our favorite, therefore this bar was one that we probably won't make again. However, if you have a protein powder that you love(for us it's Cookies and Cream IsoPure), then this bar recipe is what you're looking for!

Double Dark Chocolate
This one is a winner! We achieved a super dark chocolatey flavor that was truly exceptional. The bar was much more dense than all the others, but that is what made it great. It was dense in a chocolate fudge type of way. To compensate for the cocoa powder we cut the protein by 1/3. When I make this bar again I'll add back a bit more of the whey, probably using about 3/4 of a scoop. Lily's chocolate chips make everything good!

Toasted Almond Coconut
1 Tbsp chopped Almonds
1 Tbsp Unsweetened Shredded Coconut
Unflavored Whey
**We subbed the 2 tsp almond flour for 2 tsp coconut flour
The flavor was good on this one, but the coconut flour threw off the consistency too much. It made the bar harder and more crumbly. We're happy we tried this experiment, now we know coconut flour doesn't work as well in these bars. We are going to recreate this one using almond flour and decide if the flavor is good enough.
Cookie Monster
This one was phenomenal, and is among the best we've made. We crumbled up some leftover keto cookies we had made previously and added them at the very end. You can find the recipe for the cookie we used here if you're interested in trying it. The cookie made the consistency of the bar totally different than all the others. It was more like a brownie. Truly exceptional!

Hippie Bar
1 tsp Flax Seed
1 tsp Chia Seeds
1 tsp Hemp Seeds
Unflavored Whey
I must admit, I was a bit scared of this one. It's the only one we made that didn't have additional sweeteners in either the mix-ins or in the protein powder. The only source of sweetness in this bar was the fiber syrup, which is actually very sweet. To my surprise this one turned out to be among my favorites. I'll be making this in the future, probably upping the amount of Flax Seeds, since that is where most of the flavor ended up coming from in the finished product.

The Cost To Be A Quest Bar Boss?
Let's take a quick look at how the cost to make quest bars breaks down compared to paying retail. For this comparison I will be basing it on 1 28.4 fl. oz bottle of VitaFiber Syrup, which makes 40 bars.

The Cost of Real Quest Bars
The cheapest I've been able to find a box of quest bars for is $20 USD. Individually they cost around $3 each, I'll use both figures in this comparison.
$1.67 when bought on sale and in a box of 12.
$2.00 when bought at retail in a box of 12.
$2.50-3.00 when bought individually.
The Cost to Make Quest Bars
VitaFiber Cost per bar $0.65 (This can get much cheaper if you buy in bulk).
Unflavored Whey cost per bar $0.61.
IsoPure Whey cost per bar $0.95.
Almond Flour cost per bar $0.07
The total cost to make a quest bar with unflavored whey protein is $1.33!
The total cost to make a quest bar with IsoPure Zero Carb whey protein is $1.67!

So you're not saving a crazy amount of money if you've been buying boxes of quest bars when they go on sale. If you're like me and you just buy the individual bars every now and then, then you wind up saving a pretty penny. Plus you have the added benefit of being able to make whatever flavor pops into your head. Now let's take a look at the nutrition comparison!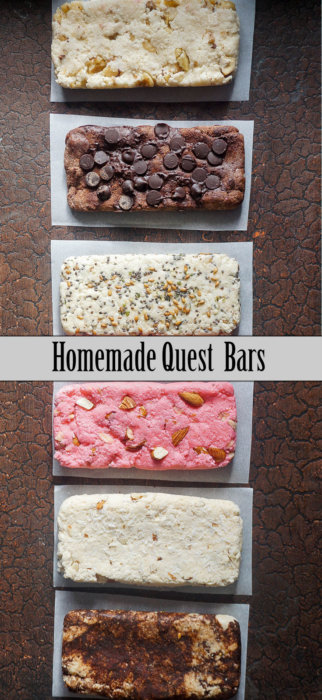 Nutrition Comparison
Let's see how the nutrition of our homemade quest bars stacks up to the real thing. I'll be using the 4 net carb Cookies & Cream quest bar for the comparison for no reason other than it is my favorite.

Cookies & Cream Quest Bar Nutrition
Calories: 190
Fat: 9g
Protein: 21g
Carbohydrate: 20g
Fiber: 14g
Sugars: 1g
Sugar Alcohol: 2g
Net Carbs: 4g

Homemade Quest Bar Nutrition
Calories: 187
Fat: 3g
Protein: 26g
Carbohydrate: 23.5g
Fiber: 21.5g
Sugars: 1.5g
Sugar Alchohol: 0g
Net Carbs: 2g

The stats aren't too far off from what a normal quest bar delivers. We actually come out with less net carbs, which is great! You're getting more protein and more fiber as well. The fiber is a bit too high actually, which is the only reason I wouldn't say the homemade quest bar definitively beats the store bought version. It's pretty much a toss up as far as nutrition goes, but the cost savings definitely swings the scale in favor of our homemade quest bars!

Make Your Own
Now that you know how to make quest bars, I would definitely encourage you to take the plunge and try making your own. If you are a fan of quest bars, making them at home is shockingly simple and extremely fun, especially if you have a partner to make them with! I put off attempting to make quest bars for far too long. I was always intimidated by the prebiotic fiber syrup, but now I know just how easy it is to use. After making a few quest bars I had pretty much mastered it! Be sure to sign up for our newsletter and subscribe to our YouTube Channel for more great content from Megha and I here at KetoConnect. Comment below with any flavors you would like us to try, or if you have a different method for making quest bars. Thanks for reading!

Add prebiotic fiber syrup to a non stick skillet. Place over a burner on low heat.

When the prebiotic fiber syrup just starts to bubble on the outside edge, add in the protein and almond flour. Remove the skillet from the heat and mix together.

Place the mixture in a ziploc bag and start to knead the mix into bar form. At this point you can add any additional toppings you want.

Place the mix into a mini loaf mold and let set for 30-60 minutes. Place in the freezer if you need to eat it as soon as possible! Let's be honest, just place it in the freezer...